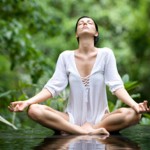 There is a chain of high-end health food stores in the United States called Whole Foods. It is a great place to visit if you're interested in gourmet food, all-natural personal care and the most trendy supplements known to mankind.
But it is not cheap. Some people even joke that Whole Foods should be renamed Whole Paycheck, because that's often what you end up spending there. This can be quite daunting for those interested in the natural life, but can not afford to shop this way. If you've ever felt that way, please note that the vast majority of holistic lifestyle and diet products are not high cost. The trick is finding creative ways to derive the same benefits  that normally come with a hefty price tag.

The next time you're shopping in the dairy isle of your local health food store or market, you will see a new product by the name Danone Shape Lasting Satisfaction. Two new studies published in the Journal of Food Quality and Preference treat the effects of these cultured tested on appetite levels in a total of 135 healthy women. The women were provided with this special yogurt that added protein (8 grams per serving) and fiber (2.6-2.9 grams per serving) or a conventional yogurt contains as mid-morning snack. The questionnaires were used as a means to determine the subjective score for "the desire to eat", fullness, hunger, and "future consumption". The researchers also exactly how much the participants ate a meal for 2 hours after the respective controlled snacks. The women's "super yogurt" reported feeling a reduction in appetite (-16%). This feeling in an average 274 calorie reduction in your next meal.
You can certainly try this new product to see if it helps promote the saturation. However, if you're on a tight budget, you may very well derive similar benefits simply by spiking some regular yogurt with a good source of fiber such as ground flax seeds or grated coconut and a natural protein powder. You probably improve the results in the aforementioned study with unsweetened yogurt and adding a small amount of xylitol-sweetened cocoa powder or canned fruit for flavor. Make sure that yogurt "live cultures" contains select. The combination of higher fiber carbohydrate and low protein + probiotics has been shown to improve: a) hunger hormone levels (ghrelin and CCK) – b) feelings of "satisfaction and pleasantness" and c) "Regulation of tissue-free fatty acid composition and recording, storage and oxidation" – all to promote a healthier body mass index.
Everyone wants a fresh breath and healthy smile. Even your cardiovascular system desired. I'm serious about it! Poor gum health is always associated with an increased risk of heart disease and stroke. Luckily an old ally of the cardiovascular system can now promote healthier gums. A new report in the journal Nutrition found a link between low levels of DHA (docosahexaenoic acid), an omega-3 fatty acid found in fish, and periodontal disease in a 5-year study with 55 seniors. The men and women with the lowest intake of fish oil showed a 1.5 times greater risk of "periodontitis events" than those with the highest omega-3 intake. Previous studies in animal models and humans suggest that the fatty acids in fish oil can reduce inflammation and regional bone loss that is associated with declining oral health. From a cost and health perspective, purified fish oil is one of the wisest health investments most people make when gingivitis is a prevalent health condition among people of all ages. (5,6,7,8,9)
The 12-Step Process Alcohol abstinence
Source: BMC Psychiatry 2009, 9:76 (a)
A poor economic outlook and high unemployment are often fertile ground for addiction and depression. This is a time when more people than ever proper medical care and supervision need, but can afford it the least. Therefore it is important to remember and remind others that free and low cost resources. Alcoholics Anonymous (AA) and 12-step groups is an option. A new analysis by researchers at the Massachusetts General Hospital Center for Addiction Medicine showed that a part of the reason for the success of documented AAs is probably due to a "relief of depression." This observation is based on interviews of 1,706 AA members in the course of 15 months. Those who attended more sessions reported less drinking and fewer signs of depression. The study concluded that "AA seems to lead both to improve alcohol and mental and emotional well-being which in turn, further abstinence and recovery-related change to strengthen." Another recent study indicates that alcoholics who regularly participate in AA can reduce impulsive behavior, which often result in a "legal problems". One of the most striking observations that are continuously made in examining the issue of AA and alcohol rehabilitation is that "abstinence is a continuous process where the alcohol-dependent free themselves from the addiction gradually."
When I write today's column I was reminded of a lesson I learned during my scenario days. Sometimes the best way to creativity in a writer to encourage the setting of boundaries. If you tell someone that they make a movie with only five characters that takes place in a one-block radius, they are forced to be more creative than when you allow them to write about what they want. Restrictions often require more creative solutions to your obstacles. In writing and in health, this will generally require spending more effort. But the end result may be more fruitful and satisfying. The proof can be found by visiting the 12-step programs in the richer parts of the city – which I did. Many people with significant resources constantly to attend meetings for free instead of seeing a psychiatrist $ 500 an hour, because it's worth – in the human, not financially.
Be good!