The market is awash with thousands of Apple watch bands. As a consumer, making the right choice is going to depend on style and sense of fashion. While watch bands seem to be trending at the moment, do not make any rush move to get yours. In fact, if you are planning to buy fashionable Apple watch bands, a good rule of thumb is acquiring knowledge about the products and different categories available.
Do Your Homework
From the foregoing, you shouldn't be considering buying a watch band similar to a friend's, with the least knowledge about this industry. It is important to determine your options beforehand. You may want to buy the Apple's band for instance, where the least product goes for about fifty dollars. When you compare this to other third party Apple band brands, you will notice a saving of about twenty dollars on the least expensive product when using third party brands.
Know Your Needs
This is another important feature to put into perspective prior to beginning your search for the best Apple watch bands in the market. To begin with, ask yourself the reason for investing in the bands. This will play a crucial role in determining your final selection. If you are looking to accessorize your daily attire, for instance, a good rule of thumb will be focusing on different styles and designs that suit your wardrobe selection.
If the Apple smartwatch helps with maintaining your fitness goals, especially when in the gym, you will need fitness Apple watch bands. They need to be strong enough not to get cut during workouts.
Quality
When checking the quality of ideal Apple watch bands, begin by looking at the kind of material used to make the product. Different materials come with different advantages and disadvantages. Carbon fiber bands, for example, are ideal for sportswear. This is because they are very strong and flexible. If you are an outdoor sports enthusiast, these bands were made for you. Carbon fiber bands are extremely long lasting and will survive in almost any kind of whether.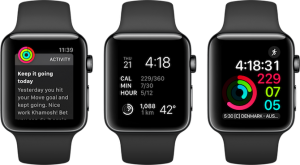 Leather watch bands are another way to make your Apple watch fashionable. These are quite ideal for official wear. When going to the office or business meetings, choose to add glamor and a sense of pride to your wrist by selecting the best leather watch bands in the market. While at that, however, be sure to check out for authentic leather products. Another thing with genuine leather bands, they can be very durable. Generally, all top grain leather accessories can be handed down to different generations.
Durability
Whenever you plan to buy a watch band for the Apple wrist watch, take time to consider the durability of what you are buying. It does not matter whether you are looking at elastic Apple watch bands. Be sure the selection is durable enough to sustain its intended use. Any supplier will claim to offer elastic bands because most clients prefer stretchy Apple bands. However, if the band will be worn out within a few weeks of use, it is not worth investing in.