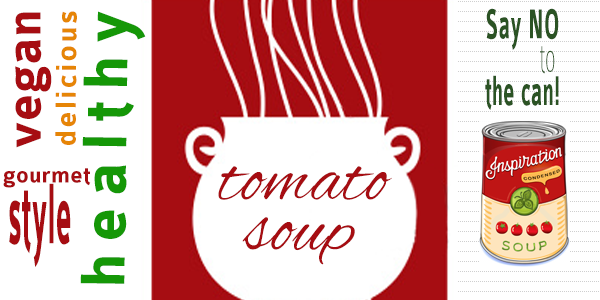 Pleasure the palate, nourish the body…
Soup's On … Wow 'em at the dining table with iLoveToLiveWell's Bistro-Style, Tomato Bisque.
The eyes behold a rich fusion bursting with gloriously vivid, electric vermilion gorgeousness. Wafts of the irresistible, enchanting aroma tantalize the nasal. With each comforting, warming and cozy slurp…the lips lapse luxuriously into velvety delight. Then, the tongue swirls in a pool of sassy spiciness and seductive sweetness. The mind captivated in the romanticism of this cloud nine, cherishable dining interlude. All the while, the body flourishes with nourishment par excellence! Eat slowly to savor the ecstasy of these grand, gastronomic moments.
…the epitome of Recipes That WOW!
The Culinary Adventure
Let's Get Homestyle Cooking
Yield is three quarts.
1} Put into a 5-quart pot:
In The Red
Tomatoes (red, low water content) = 48 ounces, leave skin and seeds intact
Weigh tomatoes…then core them.
Chop tomatoes into ½ inch by ½ inch pieces.
Sublime is the sapor of heirloom…unparalleled!
Pass The Thyme
Thyme (minced leaf), dried (thymus vulgaris) = 1 tablespoon
Measure minced, thyme leaf…then grind it to powder.
It's About Thyme
A fresh perspective…
Splendid is 3 tablespoons of fresh thyme…instead of the 1 tablespoon, dried herb.
It's Getting Hot In Here
Red chili pepper flakes = 1/8 teaspoon
Water, free of impurities = 4 cups
You say tomato… I say tomahto
Tomatoes, sun-dried = 3 ounces
If sun-dried tomatoes are without salt…accent this recipe with a little extra salt, up to ¼ teaspoon.
The sun-dried tomatoes will absolutely make or break this recipe. Be quite discriminating…sample a few varieties. Use sun-dried tomatoes of superior quality!
Which Direction To Go?
2} Lid pot…bring liquid to a rolling boil.
3} Simmer for 30 minutes…keep lid on pot for this entire time.
The Buzz
Run kitchen timer to count down the 30 minutes…all set, timing is everything!
Meanwhile…
4} Ready the following flavor enhancements…place them in a sauté pan:
Onion bulb, strip away its ends and peel it = 3 cups
Chop yellow onion into ¼ inch by ¼ inch pieces.
Bay leaf, dried = 1 leaf, in its whole form
A top-notch gourmet choice is…Turkish bay: laurus nobilis.
Feel free to choose 3 fresh bay leaves…in lieu of the dried leaf.
Salt, unrefined (fine grain) = ¼ teaspoon
Tingle the palate with one of this author's most beloved salts…Andes Mountain Bolivian Rose Rock Salt!
Water, free of impurities = ½ cup, dry measure
What Happens Now?
5} Cook onion til it's crisp-tender.
A culinary conundrum? What's crisp-tender?
Cook til just tender…but still somewhat crunchy.
Not confident enough?
Put a fork in it!
Is there a bit of resistance when pressed into the onion? If yes… Then, we have success!
Moving on with savoir faire…
Once onion is crisp-tender…
6} Introduce garlic to the pan.
Garlic, mince it = 2 tablespoons
Click here … Get garlicky!
7} Sauté garlic for 2 or 3 minutes.
8} Fish out the bay leaf.
Everything's panning out wonderfully well!
***Special Attention***
Only a high-speed, blender machine will pulverize the skin…and tiny seeds…of a tomato.
9} Place the salted, aromatic trio into a high-speed blender…along with:
Honey = 1 teaspoon
Select pure honey that hasn't been processed…heated and/or filtered.
Salt, unrefined (fine grain) = ½ teaspoon
Peppercorns, black = scant, ½ teaspoon
Relish in the exquisite bouquet and zesty bite of pepper with these fine, gourmet picks of…Madagascar, Tellicherry, Malabar, Lampong or Sarawak. For its ultimate essence…always freshly grind peppercorns just before incorporating them into a meal.
A Slick Move
Olive oil = 2 tablespoons
Consider an unfiltered…extra-virgin…olive oil made from an ancient variety of olive…tree ripened…that's been ice pressed or hasn't been subjected to heat.
Butter, dairy = 2 tablespoons
Right On Course
Have handy a 3-quart pot.
10} Add…to the blender…a portion of what's in the 5-quart pot.
11} And away we go… Have at it… A few zaps of the machine… Voila, smooth as silk.
Avoid spurting… Careful pureeing hot liquids. Start out on a low speed…gradually increase speed.
12} Transfer this beautiful, fragrant puree to a 3-quart pot.
13} Pour…into the blender…the remainder of what's in the 5-quart pot.
14} Spin about the ingredients, and break into a chorus or two of… "Hey Good Lookin'! What Ya Got Cookin'?"
15} Join the luscious silk to the 3-quart pot…stir things up.
16} Lid pot to keep bisque warm.
If desired, garnish each bowlful with a complimentary dairy cheese…or perhaps a splash of heavy cream.
For both ultimate nutrition and flavor…consume foods that are heirloom, grown organically, sustainably or biodynamically.
Bon appetit!